The journey to build a culture of sustainability across the organization begins with a vision that understands sustainability as a core value of the organization.  
Sustainability has taken a central role for businesses, but its urgency has made sustainability practices more complex than ever to implement and develop, as it'll most likely require a deep transformation for many aspects of the organization.
It is not solely a matter of creating or enlarging the sustainability department in the organization, but rather making sustainability part of every single process or practice; that being the strategy, the product or service, and even the very people who drive these practices and processes in the first place.
In order to build a sustainability culture we need to understand how mature or how deeply embedded sustainability is in the company's culture and purpose, but how?
What does a sustainability culture imply?
The journey to build a sustainability culture begins with a vision that understands sustainability as a core value of the organization. At the end of the day, it is precisely values that help drive people towards whatever goals are set, not only professionally and in terms of business, but also personally in employees' individual lives. 
However, it is essential that we understand how to translate these values into tangible elements in order to work together with employees through specific practices. This is, we need to take the organization's sustainable values and find ways to engage people into adopting them as theirs too.
Building a culture of sustainability requires communication, collaboration, and overall taking a people-centered approach that can ensure an aligned and coherent cultural evolution for the long term. 
A strong and successful sustainability culture is one that is aligned with people and the planet.
3 ways to measure your sustainability culture's maturity
The basic premise we have followed to analyze and understand how to measure a company's sustainability culture is looking into the necessary duality between people and the planet and how the latter is translated onto company processes and practices.
And although there are many definitions of culture, we believe people centered policies can be the key to understand how mature company culture is, both on its own, for example focusing on diversity, and also in terms of sustainability, for example through the role SDGs have in HR related matters. 
1. Diversity and inclusion policies (DEI)
Diversity focuses on how individuals' differences can provide diverse points of view and a more wholesome understanding of the value chain overall. Inclusion, on the other hand, aims to provide a sense of belonging and value, as well as feeling supported and inspired to achieve individual and collective goals.
Studies have in fact shown how diverse and inclusive teams perform better as they have a more proactive and open space in which to bring ideas to the table and encourage innovation, and in the same line as innovation lies sustainability.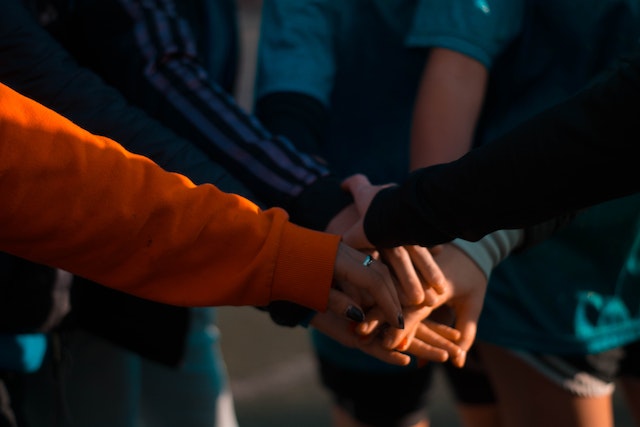 An important question to explore in order to understand how mature these policies are and how they can help develop a sustainability culture is by asking ourselves whether this is something merely written down on a company playbook or if it is actually an strategic part of the business roadmap.
It is also important to remember that defining these concepts and setting specific targets and objectives regarding diversity and inclusion is one way to keep track on whether we are making progress towards the set goals, and if not, how can we reconsider this matter to make sure it fits the ever changing social dynamics of the world.
2. Human Resources and Sustainability: SDGs and OKRs
If we are talking about company culture we need to dig into Human Resources and their role in making sustainability part of the employees' experience. 
In this regard, SDGs can become the perfect guide to understand what can be put on employees plate in order to develop sustainable practices and processes that will altogether help build a sustainability culture. 
On the other hand, in order to first understand the state of our sustainability culture in this regard and later establish achievable targets and goals regarding sustainability, we can take OKRs (Objectives and Key Results) as the perfect method to do so.You can read our guide on OKRs and sustainability to learn more about it. 
The OKR and sustainability guide
Understanding how an OKR methodology can improve corporate sustainability performance and boost employee engagement.
3. Reskilling and upskilling
The ever-changing dynamics of the labor market or the technological disruptiveness can alter many jobs in very short periods of time, leaving people under the uncertainty of keeping a decent employment position.
This is why reskilling and upskilling are a great sign that your company is working towards a strong and sustainable culture, guaranteeing that people can stay employed in the mid and long term as well as keeping up with the changes explained before.
The most clear measuring element for these two practices is the amount of investing directed towards reskilling and upskilling programs and other procedures that can help the workforce properly adapt, for example technological services or products for training and education.
Engagement as the core of a strong sustainability culture
Sustainability is a must for most workers today, and will continue to be so as younger employees begin to enter the job market. But far from being indifferent from participation in sustainable efforts, people look for the opportunity to be actively engaged and find purpose in having a positive impact through their jobs. 
In DoGood we believe that working collectively can help us find that which alone may seem unattainable or useless. That is why we think the workplace is the perfect environment to find that collective eagerness to make a difference, both for the sustainability and purpose of the company and a more sustainable way of being for all.
Through our technology we are able to activate and track employees' impact, creating engagement that translates into improved ESG metrics, reputational value and an overall positive impact for the environment and society.